your window into adelheid 
Hi! T
hanks for visiting this page. I'm Heidi, and what follows is a snapshot of the last two very signifi
cant years, and an abbreviated history of adelheid. 
I started the company because I wanted to be able to dream bigger. I wanted to make riskier work, collaborate with and include more artists in that work, and focus on developing a company that reflected the values I had: respecting the past, taking care of (what we can of) the future, and doing the best work we can right now. 
Our work grew because larger and better-resourced organizations took us under their wings. Without
Factory Theatre
,
The Theatre Centre
,
Harbourfront
and
Citadel & Compagnie
we wouldn't be where we are.  The opportunities they provided allowed us to step outside of the usual, into spheres where we could create some new realities, both in the work we made and how we made it. 
We also provide opportunities for emerging artists. We recognize the long-term benefit of supporting others; it echoes the pivotal experiences we had because other people believed in and supported us. Building sustainability for the company means building our capacity to continue making important work, and creating opportunities for other artists at various stages of their development and creative inquiry.
The pandemic has dug its heels into all of our lives - personal and professional - deeply and in many ways.  We adapted through some tough times, and are proud of what we were able to create in a time when, like everyone, we were redefining a way forward. We want to share with you a window into our work of the last year+, which today is perhaps more important, and more in need of support, than ever.  Consider investing in what can move you, in the future of local culture, the arts, and the people making it happen.  
Consider investing in us. You can make a lot possible.
adelheid is a registered charity
Registration Number 81905 6888 RR0001
CURRENT + RECENT PROJECTS
on air

 
This new work premiered in February 2022 at the Citadel where adelheid is in residence. A conversation between three women that delicately, forcibly, and collectively reflecting on human connection in the digital age, generational difference, and the state of being in-between. This September, it will tour to Ottawa, and be introduced to audiences in Germany.
"[Strauss'] goal is to anchor the audience in the shifting reality of the ever-changing world…On Air absolutely engages the mind and the imagination."  Paula Citron, dance critic
You are swimming here
A unique site-specific Augmented Reality installation that's a reminder of the fragility of the earth, and human consequence.  Your mobile device is a portal to a sea of human figures swimming in the sky above and air around you. You are able to interact in ways that are comfortable for you, with the potential of receiving messages from people who have passed through, in exchange for a thought you want to share.  A collaboration with
Luke Garwood
,
You are swimming here
will be found in parks in Toronto, Vancouver, and more in the fall 2022.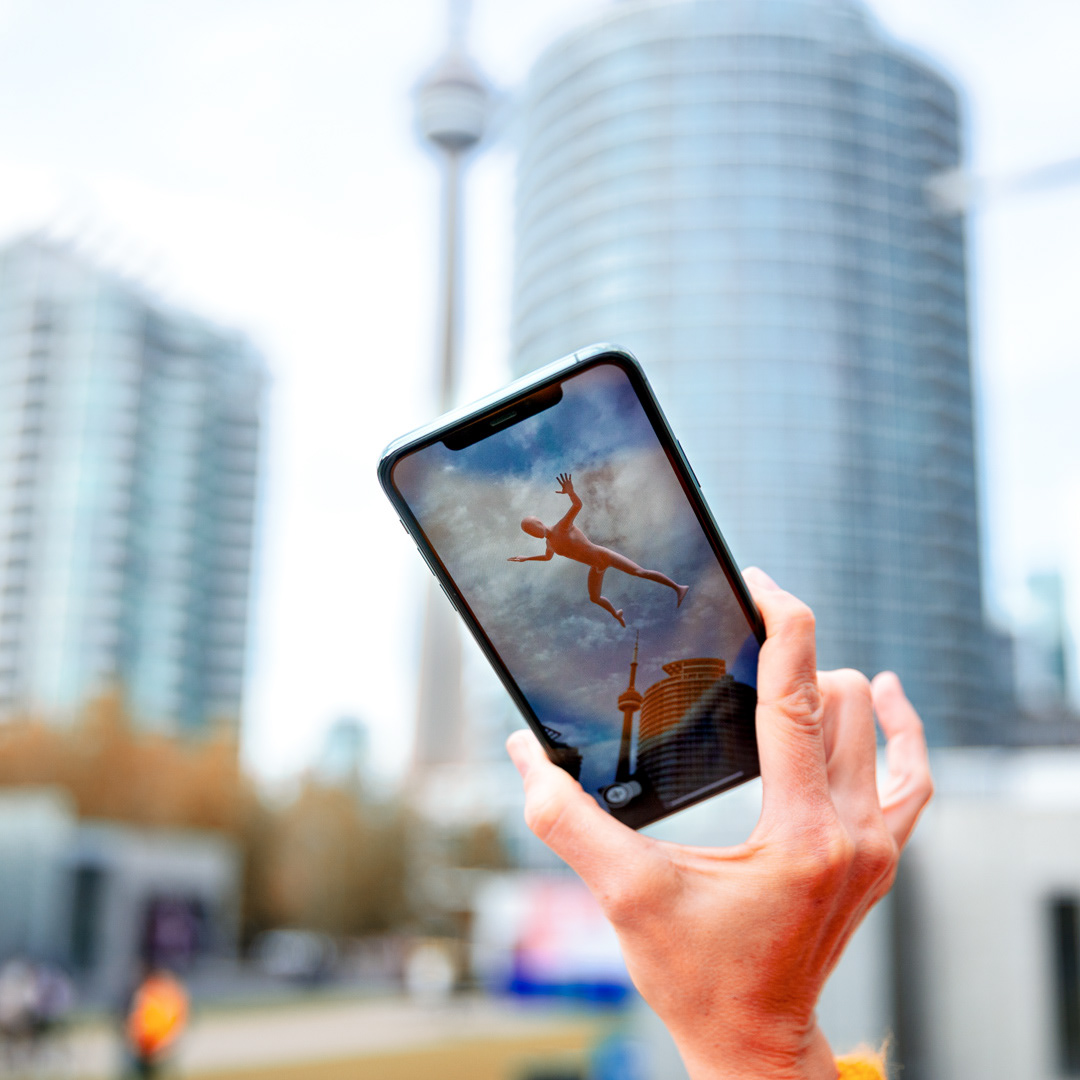 once & after
This commission for Alberta dancers
Kate Stashko and Krista Lin
 was presented in a defunct Army and Navy building in Edmonton at the end of May. Developed around a long-time relationship between these two women, in a space soon to be demolished, it walks the audience through transitional spaces and moments, exploring change on an ambulatory journey through an old giant skeleton of a store.  Presented by the
Brian Webb Dance Company.
Projects we developed during the pandemic:
Hope Foundry
(2020)
In partnership with Art Spin, we animated an enormous glass warehouse at the corner of Toronto's Dovercourt and Dupont streets, bathed it in light and soft moving projection. The building breathed colour and sound from the inside as audiences lined the streets, offering only imaginary possibilities of what was happening inside. It was recently recognized as
UNESCO's Creative Cities Network (UCCN)
project for Toronto.  
present absence
&
absent presence
(2021)
While on site in the
Hope Foundry
building, we had three days to shoot a film that responded to the space.  This turned into a diptych: present absence & absent presence. Through the giant 3-storey windows of the raw industrial space, we had a backdrop of the sky, natural light and heat, and three incredible dancers (the dancers of on air) who agreed to work amid all the Covid constraints. The films consider what DOES exist - both the visible and invisible. Exposing the inner and outer worlds of the performers, they play between solitude and collective desire. They were screened publicly in
Art Spin
events this past August and October. 
Programs we ran for the community during the pandemic:
SPACE
(2021)
As Toronto continues to experience studio and rehearsal space closures, we saw it as a responsibility to support the community through creating a dedicated venue for dance artists to return to their practice and process of dance and performance making emerging from the pandemic. For 5 months (June 15-Nov 15, 2021) we ran a pop-up space for rehearsals, classes (including supporting emerging dance teachers) and creative exploration. This was one way we could support other artists through this unprecedented period. 
re:research
(2021)
Our annual in-person non-product-based creation intensive for emerging dance artists moved to a virtual platform over a two-week stretch.  For the first time, we were able to add an (in-person) week which allowed the three different creation processes the benefit of live interaction, and what can only happen when people gather together in the same place with a shared intention.  In total,
re:research
supported 12 emerging artists in their creative explorations through a period of time when reinvention was the name of the game.
re:research + design
(2021)
Building our programming to begin to address longstanding racial inequities in our field, we worked in partnership with the
Orillia Centre for Arts and Culture
to run a residency program for emerging artists of colour, Indigenous artists and Black artists. The goal was to develop fluency in working with designers.  In this case it was an Ottawa-based urban dance collective called Speakeasy mentored by brilliant multi-media designer
David Mesiha,
with me as facilitator. Because of the success of this program, the Orillia Centre for Arts and Culture has invited us back next year for a second iteration of the program. 
re:research audio
(2021)
Integrating new ways of sharing experiential wisdoms, we initiated a program in which local dance artists chatted with Metcalf Foundation Intern Dedra McDermott and re:research producer Jane-Alison McKinney about performance making, process and practice.  Series ONE gives voice to three female choreographers of note:
Roshanak Jaberi
,
Amanda Acorn
and
Vivine Scarlett
.  Series TWO features the extraordinary
Esie Mensah
,
Irma Villafuerte
and
Alejandro Ronceria
. 
(more) movement sessions
(2021)
adelheid ran three workshops for professional dancers who bravely re-entered studios to begin training, and practice in rooms that were not on the Zoom!  We geared these classes to be as much about independent dancing and development as they were about relating to each other and beginning to rebuild the social and community aspects of ensemble dancing that were put on hold by the pandemic. 
People and space are the seminal ingredients to our process in and out of the studio. The team that made everything you just read happen is made up of:
Dedra McDermott, 
Metcalf Foundation Intern (contract)
Jane-Alison McKinney,
re:research Producer/Social Media Manager (contract)
Jeremy Mimnagh,
Artistic Associate, Photographer/Designer + (contract)
Rachel Penny,
Creative Producer (PT/salary)
Heidi Strauss,
Artistic Director (FT/salary)
If you are looking for a worthwhile initiative to support, one which meaningfully engages audiences, creates strikingly thoughtful live and digital performance, and also supports artists in this delicate and precarious time,
you've found it
!
We need people like you to sustain the quality of activity that we do.  
To see more of our work and activities, feel free to check out the rest of our website!  Consider making a gift to adelheid, or maybe even becoming a regular monthly supporter.  You can reach out directly to us
here
or click on the button below. Thanks for reading.
Heidi Strauss, Artistic Director, adelheid
adelheid is a registered charity
Registration Number 81905 6888 RR0001