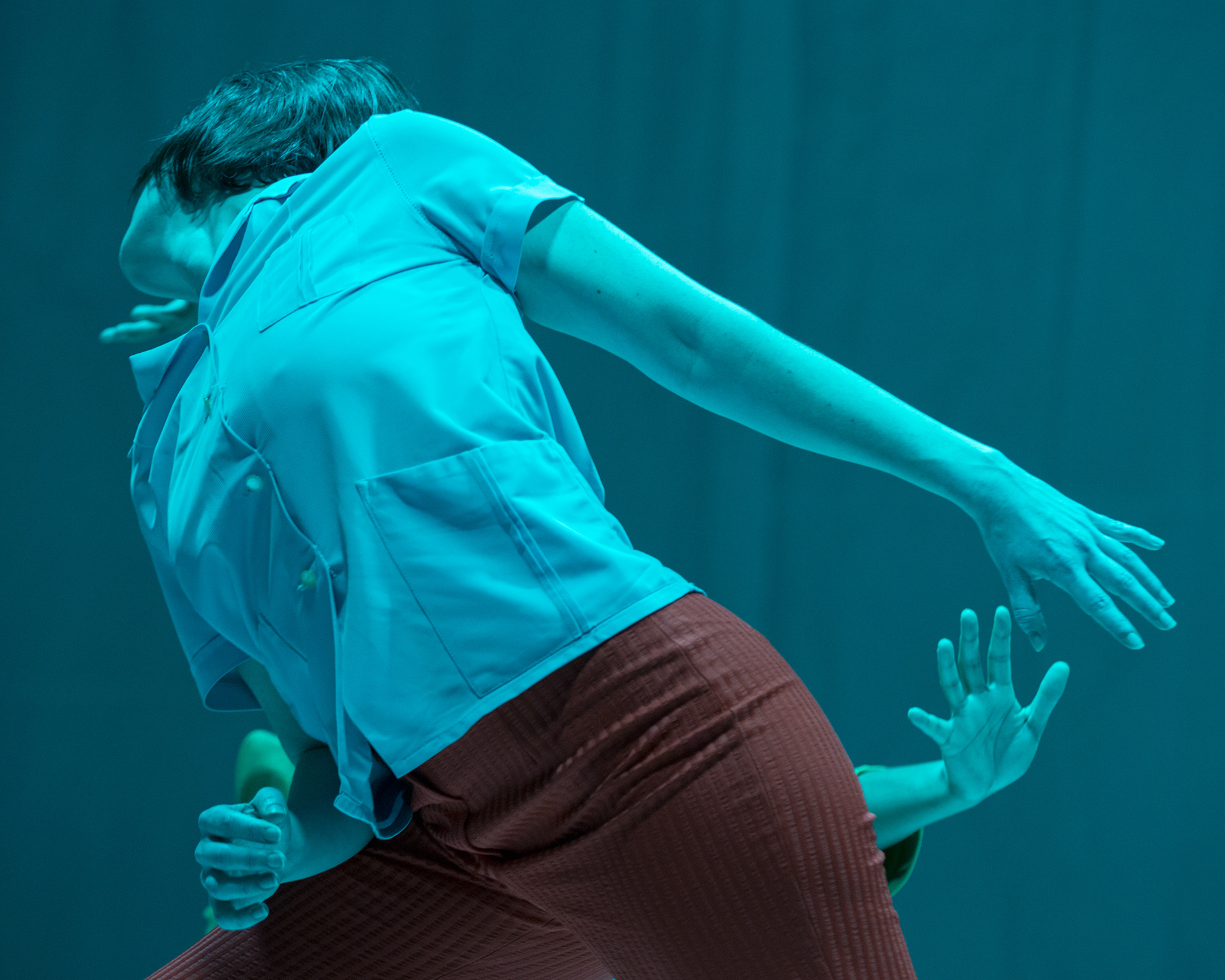 on air

is a physical performance conversation between three women who delicately, forcibly, and collectively ruminate on the complexities of human connection in the digital age, generational difference, and the state of being in-between. It wraps the audience and performers together in an intimate suspended world to experience elasticity of time, passages between points of arrival and departure, and puzzles of incomplete understandings. Accompanying this, a complex, physical language connects the dancers as they adapt to off-centring movement systems and interdependently evolving game structures.  
                               "[Strauss'] goal is to anchor the audience in the shifting reality of the ever-changing world…                                                             
 On Air
absolutely engages the mind and the imagination."  Paula Citron
on air

is a non-linear, non-narrative-based work experienced in the round, in which audio and video live-feed are integrated to create spatial distance with real-time responsiveness. The performers come and go.  They exist in and outside the performance environment. They are partly there, partly not, sometimes inhabiting the space through projection or audio feed. The absent presence of those performing outside room challenges habitual attention; the moving image attracts the eye, the faceless voice entices the ear, and then, there is who is in front or beside us. These modes of mediated connection were part of daily pandemic life when sharing real rooms was impossible. They continue to exist now as part of the language of our time.  They powerfully remind us of presences we can't see, but are there still. This in-between state is a state of questioning acceptance – of not needing answers to continue – of a continual listening to oneself, others and the moment we are in together.  
collaborators/performers: 

Syreeta Hector, Jane-Alison McKinney, Amanda Pye 


composition:  

Joshua Van Tassel


projection: 

Jeremy Mimnagh


costume:

Alana Elmer


lighting:

André du Toit


stage management:

Laura Cournoyea


producer:  

Rachel Penny


intern/rehearsal & production assistance:

Dedra McDermott


production management/technical direction:

Kit Simmons w/Aaron Kelly
Technical residency support: 


The Orillia Centre for Arts and Culture (Feb 2019)
The Citadel: Ross Centre for Dance (Nov 2021)


Partnership installation + films:


August 2020 Hope Foundry/Art Spin installation, August + October 2021 Art Spin 


Presentation dates:

  
Feb 18th & 19th,  23rd -26th           The Citadel: Ross Centre for Dance, Toronto
Feb 25th  Bright Nights live stream   The Citadel: Ross Centre for Dance  
September 29-Oct 1,  2022            Ottawa Dance Directive, Ottawa 

This

on air

process is supported by the Canada Council for the Arts. The presentation is made possible with generous support from Lindy Green & Sam Chaiton.